Flexes To Easily Remove The Most Difficult Flash
Then springs right back to a beautiful straight edge.
The most flexible hobby blade ever.
Carves styrene easily, putting more control in YOUR hands. See just how flexible Flash Master Blades are!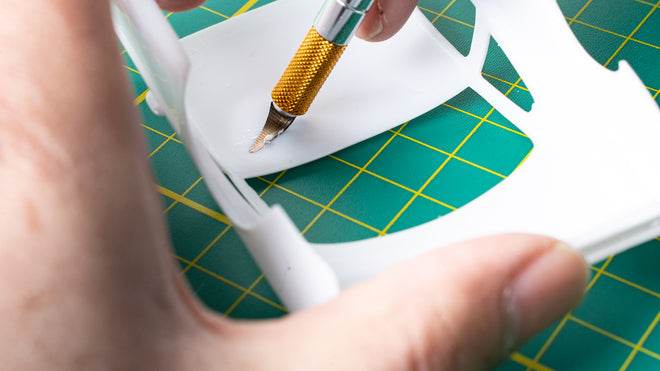 Conforms to the Curves!
Gets at the most hard to reach areas, like interior curves.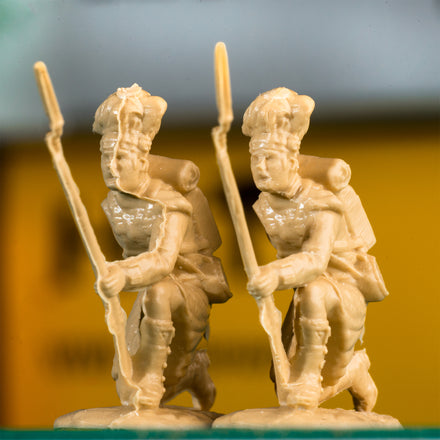 Before and After!
Removing flash has never been more precise, or more satisfying. If the Flash Master can handle the flash on the face of this 1/72 figure, think what it can do in YOUR hands!
Testimonials

Been working with it for about an hour now. First comments: 1) LOVE the pliability of the blade, took me two minutes to figure it out, but awesome idea! 2) Also quite versatile: been using it on hard plastic (Italeri), softer (Revell) and even metal (some obscure manufacturer from Deutschland): the blade stays true and sharp, which is great.
– S. Page, Diorama maker and 1/72 figure painter

As a professional model builder, I have tried all kinds of products that claim to improve the model building process, and most fall flat. When I first tried the Flash Master Blade, I was blown away! At last there was a flexible blade that would allow you to cut and shape in the most delicate and intricate areas. You can even sculpt with precision using these blades. These blades are also extremely long lasting, the tip doesn't break off and they can be used on everything from soft plastic to hard styrene. As a pro modeler, I can't recommend these blades more!!!
– Rick Shad, Professional Model Builder

I've enjoyed using them so far. Working on any type of softer plastics is a breeze. I used to dread trying to work on any Reapers Bones line but not so any more. I have cleaned up a bag full of the buggers in just a few days.
– Glenn B.

They work very well at cleaning up flash but also as a seam scraper, sprue gate remover and removes unwanted details.
– Paul W.

I have given one a quick tryout and am impressed, they certainly beat the normal inflexible scalpels and anything else I have tried when working on 1/72 figures.
– Richard C.
ORDER NOW
A pack of Flash Master Blades available in quantities of 10, 20, or 40 all in a handy little case to keep them organized.